Viral Leggings, Flip Flops, Socks, Unicorns and More For U
---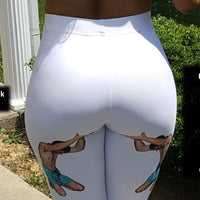 Boss Girls Are Large & In Charge with HeroicU
Our VIRAL LEGGINGS DESIGN shows Instagram's KEYNU RUTH with her little runt man in hand as she explains his purpose in life is to worship women as shown on her leggings.  Boys make good pets, so let's just say she had no problem training him "Good Boy". 
Every move you make in your leggings is praised by the men on the back of the leggings.  The front side announces your arrival as "AWESOME GODDESS" or "WOMAN POWER".
Heroic U is a brand that's about U!  We PRAISE U, SUPPORT U, and donate 10% profit to cancer research!  This makes U truly a hero, the Heroic U.
Our creative designs on dresses, swimwear, skirts, leggings and more are great for yoga, pilates, working out, volleyball, swimming, a visit to the beach, or an evening out.  Even if you can't wear these viral leggings, you can own a 61 INCH DIAMETER BEACH BLANKET WITH THIS VIRAL IMAGE
CLICK HERE TO SEE THE WRNS VIRAL POST >275,000 shares >6,900 comments and >7,200 reactions
Testimonials
Loved the Little Black Dress!

Fits snug but not too much, can be worn with high heels, and a nice necklace, or with sneakers and a jean jacket.  I will be wearing it A LOT!!!!

Instagram @strongmariastrong
The coolest leggings I've ever had!

They are definitely one of my favorite leggings, very stretchy, comfortable, great support, and the main thing they are squat proof

Asta
AWESOME!

My Awesome Goddess leggings are super stretchy, not see through, really soft and comfortable.  I love that 20% of the profit goes to Ovarian Cancer Research, which makes me a real life Hero too! I just helped save lives!

Caitie
Best pair of leggings I've ever owned!

My Awesome Goddess and Woman Power leggings are comfortable and stretchy with great control.  I've washed them multiple times and they keep their quality with no fading.

Keynu
Absolutely love those leggings!

 Very comfortable, very stretchy, feel like a second skin.  But, I would recommend to order one size smaller.

Asta
WOW!

My Woman Power leggings are just amazing!  So comfortable, beautiful, very nice fabric.  I'm in love!  Must have for ladies!

Maria
Love the Awesome Goddess Leggings!

Love the leggings and the material.  Recommend ordering a size smaller than you normally wear.

Angela
Very comfortable and stretchy. Im UK size 10 and ordered size S, fits perfectly. Nice bright color, attracts everyone's attention. Looks great with Heroic-U Awesome Goddess leggings.

Asta
Love the Woman Power Gray Leggings!

This color looks so good. Leggings are very comfortable, so stretchy and absolute booty booster. Got so many compliments wearing them in the gym.

Asta